Thank you to Daddy Bob for these instructions!
Preliminaries:

Before editing photos for use on a web site, it is recommended that you create a folder with sub-folders for the raw photos, and another folder with sub-folders for the finished photos. The photos from the camera go into the raw folder where they remain in their original form. All edited photos are saved to the finished photos folder. This assures that the original photos will always be available should there be a mistake made while editing or additional editing be desired at a later date.
These two folders should not be kept in the same folder as the local copy of the website, unless they are marked to prevent them from being uploaded when the site is updated. For use in these instructions, these two folders will be named "Raw Photos" and "Finished Photos"
The finished photo file names should be in all lower case letters containing no capitals or spaces. If a space is deemed to be absolutely necessary use the underline "_" character in lieu of the space. The size of all uploaded photos should be less than 50 KB each. Before using your photos in creating a web page or uploading, check to be sure that all photos meet these requirements.
Part I: Recommended Program
I use and highly recommend IrfanView for this task. Irfanview is a full featured, free photo editing program.
Step I – Download & Install IrfanView
Download from http://www.irfanview.com. When the setup program is run, this dialog is displayed. If at any time during the installation, the options presented are not understood, you will be safe in accepting the defaults, and clicking next.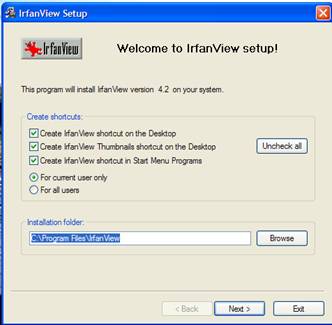 You can choose to create shortcuts and who will be able to use the program. Click Next.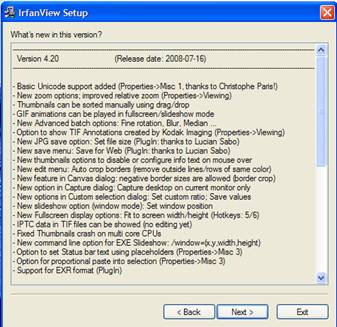 Since there are no user inputs on this screen, click next.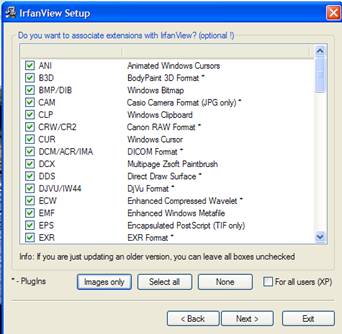 This screen allows selecting the program types that Irfanview will open by default. If this is the only photo editing program you use, click the Images Only button and click Next.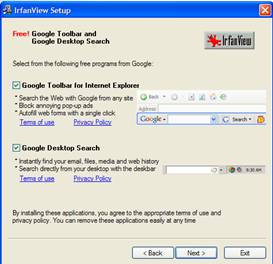 If this screen is displayed, then you have not previously installed these Google products and probably do not want to install them now so uncheck the two boxes and click Next.

This just makes sure that you want to use the Irfanview program to open the image files as you selected in the previous screen. Click Yes.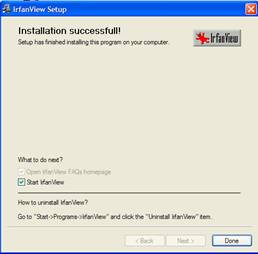 The program has installed successfully, and you can choose to open it when you click Close.